We have two 3-bedroom deluxe cottages for rent!
Cabin 9 Cabin 11
All eleven of our cottages are waiting for you for a vacation to remember – your home away from home during any season. Each cabin/house/condo is completely furnished including a fully equipped kitchen. Please respect our guests who will be coming after you, and only smoke outside of the cottages & house!

We accept checks & cash! We do not take credit cards!
All cabins (except 8 & 9) also accept Venmo and Paypal.
*******Peak Season Dates: June 11th, 2022 – August 20th, 2022*******
Peak season: Saturday to Saturday rentals only!
Off-Season: Weekly rentals are more flexible or two night minimum.
Cottage
Bedrooms
Features
Peak Season Rates
Off-Season Rates
Air-Conditioning
TV
Washer/Dryer
1
1
1 Queen Bed
1 Full Futon
$775/week
$95.00/nt $575.00/wk
Yes
Yes
No
2
2
1 Queen Bed
2 Twin Beds
1 Full Futon
$925/week
$120.00/nt $700.00/wk
Yes
Yes
No
3
2
1 Queen Bed
1 Full Bed
1 Full Futon
$1,225/week
$135.00/nt $800.00/wk
Yes
Yes
No
4
2
1 Queen Bed
1 Full Bed
1 Full Futon
$1,225/week
$135.00/nt $800.00/wk
Yes
Yes
No
5
2
1 Queen Bed
1 Full Bed
1 Full Futon
$1,225.00/week
$135.00/nt $800.00/wk
Yes
Yes
No
6
1
1 Queen Bed
1 Full Futon
$1,050/week
$135.00/nt $800.00/wk
Yes
Yes
No
House
4
1 Queen Bed
2 Full Beds
2 Twin Beds
1 Full Futon
1 Full Sofabed
$1,600/week
$190.00/nt $1,150.00/wk
Yes
Yes
Yes
7
2
1 Queen Bed
1 Bunk Bed
(full-bottom & twin-top)
1 Queen Sofa bed
$1,225/week
$150.00/nt $800.00/wk
Yes
Yes
Dryer
8
2
1 Queen Bed
1 Full Bed
1 Full Futon
2 Daybeds (4 twins)
$1,225/week
$150.00/nt $800.00/wk
Yes
Yes
Yes
9
3
3 Queen Beds
1 Bunk Bed (Full Size on top & bottom)
2 Twin Pullout
$2,200/week
$280.00/nt $1,500.00/wk
Yes
Yes
Yes
11
3
2 Queen Beds
1 Full Bed
2 Twin Beds
1 Daybed (2 twins)
1 Sofa-Sleeper (full)
$2,300/week
$280.00/nt $1,500.00/wk
Yes
Yes
Yes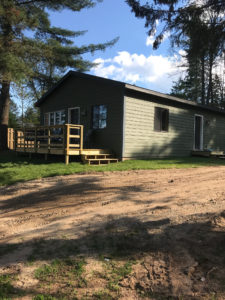 Cottage #4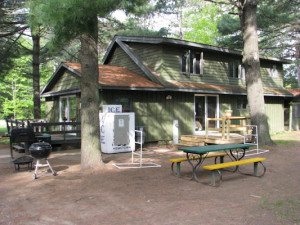 4 Bedroom House
Amenities

FREE WIFI in every cabin!! Antenna t.v.'s for local channels, and available hook-ups for laptops. Cabins 7, 8, & 11 have DirectTV.
Fully equipped kitchens including dishes & cookware.
Microwave, toaster, & coffee maker in every cottage. (Cottage 9 & 11 have a dishwasher).
We no longer provide sheets for the beds. We will provide a clean mattress pad cover, clean zippered pillow covers & pillows, and a blanket will be provided in each bedroom closet.
Picnic table & charcoal grills for each cottage. (We do not provide charcoal) Cottages 9 &11 have a charcoal & gas grill.
Cottage 11 has an outdoor hot tub!!!!
Lots of pier space for docking boats with electricity.
Screened-in fish cleaning shack on both properties.
Floating swim raft at both properties
Sandy beach with great swimming area on the Peyer's property. The property next door (Cabins 7, 8, 9 & 11) has grass down to the lake with all sand bottom swimming area.
Boat launch on the Peyer's property, which can also be used by guests in Cabins 7, 8, 9 & 11.
14 ft. aluminum boats, canoes, kayaks, paddle boards & peddle boat (all FREE to use!)
Life jackets available to use for free
Campfire Pit & FREE firewood (donations welcome!)
Volleyball Court
Bocce ball, croquet, & horseshoe pits
Children's' Play Structures
Snowmobile from your door
Located next to snowmobile trails, brand new bike/walking path
Close to great shopping, restaurants, and golfing.
Extra Guests

: *There will be a charge of $5.00 per day for extra guests (over the age of 4) above the maximum allowed. *Pets are welcome at no extra charge! (Please have control over them at all times, clean up after them, and bring blankets for the furniture!)
Reservations

: If you would like to keep your same cabin for the same week for the following summer, you must leave us a deposit BEFORE YOU LEAVE!! A deposit of $300 is required to reserve a cabin. *We only rent by the week (Saturday to Saturday) during the summer months. There is a 2 night minimum stay during the spring/winter/fall months; a $100.00 deposit is required for these stays. *Reservation balance is due upon arrival. *Reservations that are placed over the phone will be held for 10 days only. If we do not receive a deposit, it will be cancelled. *
There is a 5.5% State tax, as well as a 4.5% Town of Three Lakes Accommodation Tax. *

WE DO NOT ACCEPT CREDIT CARDS

; only personal check or cash. (Cabins 1-6 & Cabin 11 & the 4 BR House also accept VENMO & PAYPAL. Cabin 7 accepts Venmo.)
Cancellation Policy

: *If you need to cancel your reservation with us, we must be able to re-book your cottage first, in order for you to use your deposit for a future reservation IN THE SAME CABIN. There will be no refunds of deposits! The only exception to this policy is in the event that there is a lack of sufficient snow for snowmobiling, then deposits will be refunded in full.
Check-in and Check-out Time

: Our cottages and house will be ready for you AFTER 3:00pm on your arrival day), and you need to check out by 9:00am on the day of your departure. We need time between 9:00am and 3:00pm to clean them well for our next guests. Thank you for understanding!
Not Included With Your Cottage/House:
* Bedding (we supply clean mattress pad covers and pillows with zippered pillow covers and a blanket for each bed, but NO SHEETS OR BEDSPREADS!)
*Soaps (dish, body, shampoo, etc.)
*Towels, paper towels & toilet paper
*Consumables such as salt & pepper, coffee, charcoal, etc.
Have a question? Need more information? Want to make a reservation? Please feel free to contact us anytime at:
Your hosts are: Randy & Jodi Peyer 7340 HWY 45N Three Lakes, WI 54562
Phone: 715 490-3008 or 715-490-0466
E-mail: peyersparadise@gmail.com